This is the world's first glimpse of the magic moment when Joan Collins wed her husband No. 4

As the 52-year-old Dynasty star made her final vows to Peter Holm, 38, in a secret Las Vegas ceremony, he tenderly slipped the wedding ring on her finger

Full story - pages 10 and 11

JITTERY JOAN GETS GIGGLY FIT AT THE ALTAR.

DYNASTY superstar Joan, Collins' nerves got the better of her as she spoke the vows at her wedding ceremony in a tiny chapel in Las Vegas.

First her voice developed a tremor when she said words: "Love you, cherish you and serve you" to bridegroom Peter Holm.

Then, as she repeated: "To have and to hold," she developed a stutter.

Finally, when last week's short ceremony with the Swedish businessman 14 years her junior came to an end, she burst into a fit of giggles

Through her laughter, the 52-year-old millionairess who was marrying for the fourth time spluttered: "I'm so happy this is over.  I'm so nervous I can't stop laughing

But her laughter was not to last long

It was halted by an amazing incident- the first in a string of events which turned the stars planned week of triumph into one of tears.

Rage over

Pictures

              For Joan spotted Charlotte Richards - owner of the Little White Wedding Chapel on Las Vegas' sleazy Strip - taking a photograph of her and Peter.

Joan's uncharacteristically nervous laughter turned instantly to Alexis-style rage, and she demanded that Charlotte hand over the picture. 

The reason: Joan and Peter – dubbed "The Greedy Swede" – planned to make a £175,000 fortune selling the pictures and story around the world.  They had bought their own photographer along and they did not want anyone else taking pictures that might spoil their scheme.

Charlotte who has been arranging quickie weddings in divorce-happy Nevada for 28 years said "I only wanted the photo for my own personal use.

"I'd never dreamed of selling it I wanted it as a memory of a wonderful occasion."

Tapes up

for sale

Joan insisted on having the Polaroid snap. But her greed may yet backfire on her. For in the fuss over the picture, Charlotte forgot to offer Joan a tape recording of the ceremony which the star could have bought for a mere £7.

Now Charlotte plans to sell it to TV and radio stations. "I stand to make a lot of money", she said. "It could be very valuable"

Other incidents and revelations followed thick and fast, slowly tarnishing what was meant to be one of the most romantic days of the British star's life.

Her golden week had started with her and Peter winning Joan a new pay deal from Dynasty giving her a staggering £57,000 an episode – 2 million a year.

The week was meant to combine with a romantic secret wedding followed by a glittering celebration party for Joan's Hollywood friends to pay tribute to the couple.

Joan and Peter would then pocket a further £175,000 by selling their story around the world.

CUDDLE: Peter and Joan jet off after the wedding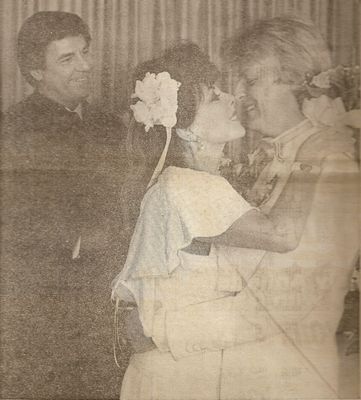 But soon the gold turned to gaudiness as friends and acquaintances laughed behind Joan's back at the 'tackiness' of rushing off to Las Vegas  to marry in a quickie ceremony.

Why I wed my No 4, by

the queen of the soaps

And the glitter turned to greed as squabbling broke out over who should sell the pictures and for how much.

But why did Joan marry at all?  When she split from husband No.3 Ron Kass she vowed "I'll never wed again"

Touch of

Cold feet

It seems that once every 11 years the superstar gets the urge to merge.

She married actor Maxwell Reed in 1952, Tony Newley in '63, Ron Kass in '74 – and now Peter Holm in 1985.

"This is different. Totally different", she told the News of the World. 

"It's the best relationship I've ever had with a man. I have someone who's very loving as well as being my best friend."

She added: "I'm deliriously happy to be married"

Joan's happiness must also be tinged with relief.  For the News of the World can reveal that she has been on the point of going to the altar twice already this year – but each time has got cold feet and backed off.

A friend said: "She was getting to the stage where Peter was putting on more and more pressure and she either had to do it – or cancel the engagement entirely."

"Finally when Peter came through with the Dynasty deal – which was a triumph for him – she caved in and agreed.

"But it was touch and go right up to the last moment. That's why it was all done in such a rush.  Peter wanted to get her there before she had time to call it off again"

The first occasion Joan backed out was in June – just after her birthday – and then she did it again in August.

Each time the News of the World was approached by an intermediary and asked if it would be interested in buying the rights to the wedding which she and Peter were planning to sell.

The News of the World learned that the first plan was to hire a Panamanian registered yacht in the Mediterranean and have the ceremony performed by the captain at sea.

'Tacky'

offers

The News of the World was told that any bid it made would be up against a £175,000 offer from an American magazine.

"But Joan didn't want to accept such an offer because it would look tacky and wasn't the sort of romantic thing she had in mind", revealed the friend.

Eventually, only days before the plan was due to be put into effect, she backed out.

But in August it was suddenly revived. And once again the News of the Word was asked to bid.

This time, too, Joan cried off at the last minute. And when she finally decided to go ahead and marry, she obviously went for the "tacky" offer.

What was the cause of her jitters? I understand it lies in the titanic clashes she has with Peter.

Friends say that when the couple argue, Joan sees another side of Peter which she dislikes intensely.

He can be cold, stubborn, arrogant and ruthless. When all those characteristics are working for Joan in getting her financial deals she is happy.

When they are turned on her, she hates him.

"Of course we row", she told the News of the World". "We have humdingers. We're both strong personalities."

The row over the wedding pictures started when the photographer who took them offered them to newspapers and magazines.

Then the deals were taken out of his hands and Joan's new husband sold them to an American magazine for £175,000.

Now the magazine is thinking of ducking out of the deal because similar pictures have been sold to a rival.

Other revelations about the wedding are:

NO close relatives, including Joan's daughter Katy, 13 and son Sacha, 20 were said to be told about it.

THE whole thing was staged to outshine Princess Di's U.S. visit – because Joan was furious about not being invited to the White House to meet the Royal couple; and

JOAN lied about her age on an official form. She lopped off five years and claimed she was 47.

By last night Joan was said to be in a "complete state" about the whole sorry business.

Copyright:  News of the World, 1985

From MARGARET HALL in LAS VEGAS

SEALED WITH A KISS: The minister smiles as Joan hugs husband No. 4 Peter after their wedding in a Las Vegas chapel


    NEWS OF THE WORLD, 10 NOVEMBER 1985

    Joan Collins

    COLLECTION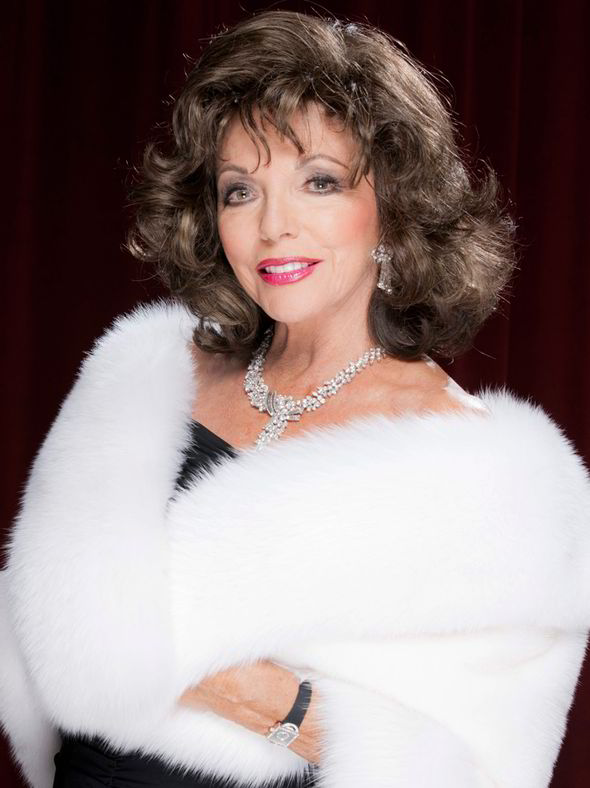 Site Design (c) Joan Collins Collection